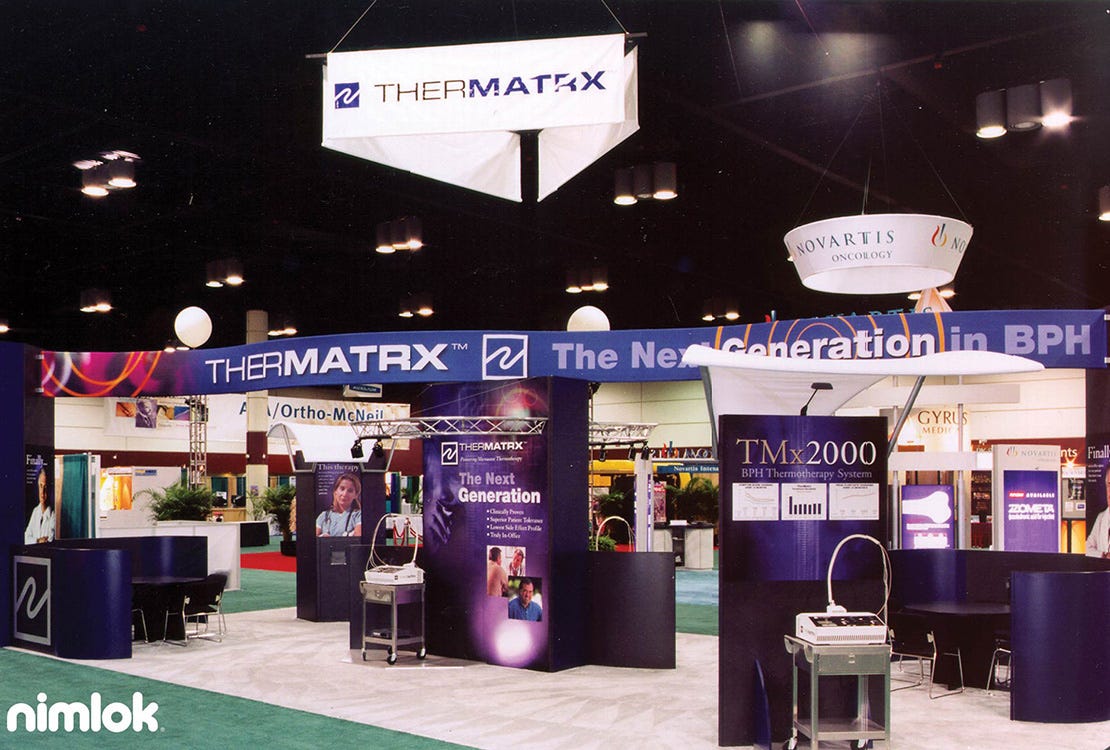 Client's Comments

"This booth design works very well for us as it has an open design which invites the doctor in to learn more about our company and product. The ongoing support from Nimlok Chicago is excellent."
Christine Brown, VP, Sales & Marketing, Thermatrx
Design Challenge
Showcase medical machinery recently approved by the FDA in an open, flowing custom trade show exhibit. Exhibit needs to include 2 semi-private meeting areas, 4 machine pedestals, 2 lit stands, 1-2 video monitors. Client wants to maximize visibility for these new products with use of dramatic lighting and prominent graphics. Graphics need to be clean, simple and easily changed.
Design Solution
At center of the island, build two machine showcase areas using blue laminate panels. Suspend spotlights from truss at the top of these to focus attention on the machines and the large graphics behind them. At two opposite corners of the custom trade show exhibit build 12' high towers that display computer videos on the outside and create semi-private conference areas on the inside. Carry out the open, flowing design with the use of subtle, yet dramatic fabric canopies in the other corners to showcase the remaining two machines. A large 30' wide fabric banner with the Thermatrx logo boldly displayed curves across the top tying the two corners of the exhibit together and providing excellent brand identification.