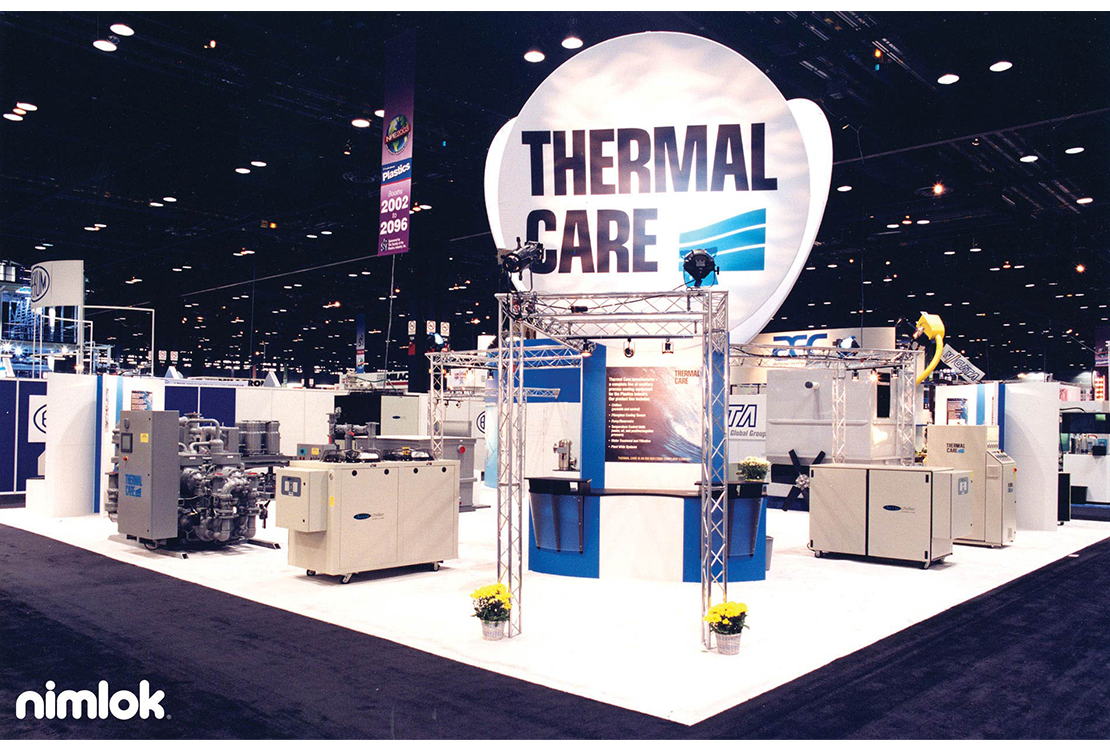 Client's Comments

"The distributor really heard what we wanted and met our exact needs and our price. They were there for everything we needed."
Audrey Guidarelli, Manager of Marketing Services, Thermal Care, Inc.
Design Challenge
Company that attends big NPE industry show once every 3 years wants an inviting, high-tech rental trade show exhibit that can accommodate twelve machines some up to 10' high. Trade show booth needs to include two product display stands, a private conference area with attached storage area and a reception area able to seat 3-4 people. Want booth design to incorporate eye-catching graphics to have corporate ID highly visible at show.
Design Solution
Use Tri-lock truss as main focus of the trade show rental display to create a high-tech look and tie all elements together. Customize standard white rental panels with blue vinyl to match corporate logo. In the center build a 20' high tower to support 3 large fabric disks prominently displaying the corporate ID. Shine water movement blue lighting on the disks to further enhance the visual effect and to make reference to the company's use of water in their manufacturing process. At the base of the tower build a large reception area with custom black laminate countertop and Plexiglas supports. Use eye-catching vinyl graphics to customize the curved wall of the conference/storage area at one end of the booth. Place product display stands at opposite corners of the exhibit.