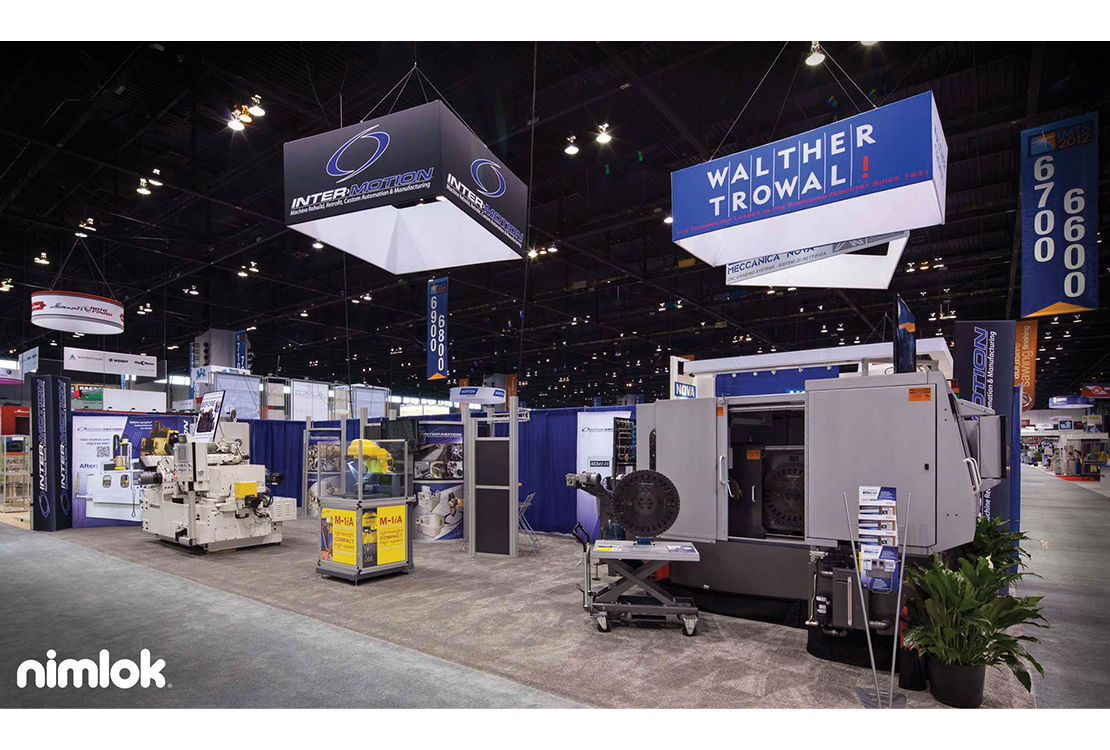 Client's Comments

"The Nimlok system allows us the flexibility and freedom to display in any size of booth, as well as display any one of several divisions that share the booth. We had a large amount of leads and were very satisfied with the traffic at our exhibit."
Trent Whittaker, Inter-Motion Sales & Marketing Manager
Design Challenge
Inter-Motion is a full service professional machinery rebuilder and retrofitter based in the Midwest. Their main goals were to achieve an exhibit design that allowed them to stand out amongst their competitors while maintaining versatility and ease of use. Shipping was also a concern as they needed to fit the exhibit on one trailer. Inter-Motion wanted the design to match or exceed the height of surrounding exhibits, but still maximize floor space for incorporating large machinery.
Design Solution
Firespring, an authorized Nimlok distributor, created a custom modular exhibit comparable in size to Inter-Motion's competitors with fabric and hanging structures. Inter-Motion was able to ship the display in one large case, and team members could easily handle setup within a day themselves, eliminating the added cost of out-sourced labor. Versatile structures can be reconfigured for 10' x 20', 10' x 15' or 10' x 10' booth spaces, and new pieces can easily be added to change up the look. Graphic elements are easy and affordable to replace allowing Inter-Motion to adjust branding elements as needed. The display system took up minimal floor space and accented machinery without overpowering it. It also provided room for a mounted LCD screen and a semi-private space to meet with clients. Overall, Nimlok provided Inter-motion with a display solution that clearly conveyed their brand message of being an innovator in the industry and also delivered results, driving a great volume of show attendees, which resulted in a large number of prospective leads.