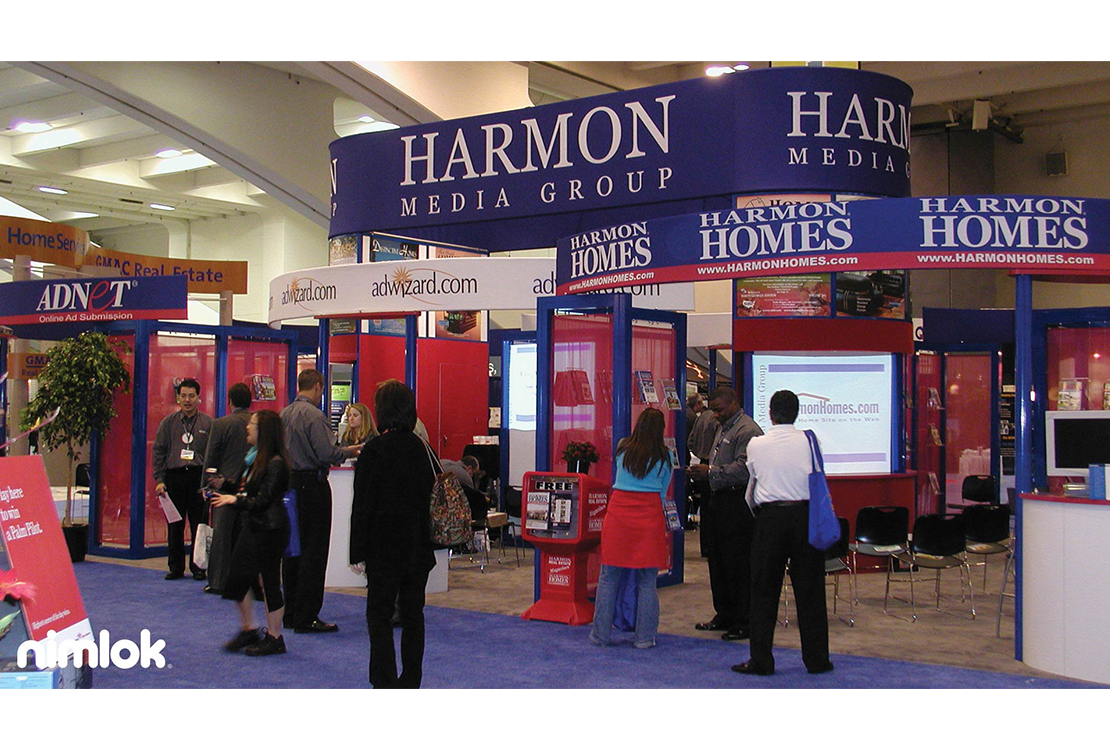 Client's Comments

"Our team was thrilled to work alongside the talented Nimlok team and Neil Carroll of TPS Displays. We achieved an effective results-oriented booth that matched our needs perfectly with very little wasted time or effort."
Erin Cullipher, Vice President, Harmon Homes
Design Challenge
Create one large, impressive "umbrella" custom trade show exhibit for Harmon Homes with distinct, separate meeting areas for each of six subsidiaries. Each meeting area needs to provide seating, a slide projector and projection screen for Power Point presentations. Want privacy for each area while maintaining open, airy feeling and good traffic flow. Lots of storage needed for literature/giveaways. Use as "umbrella" exhibit once. Booth design needs to break down into six separate trade show exhibits for multiple uses later.
Design Solution
Build a trade show booth with an 18' tower with prominent Harmon Homes fabric sign. Print graphics of subsidiaries' magazine covers directly onto Plexiglas panels. Use aluminum extrusion system with sheer fabric panels to create six meeting areas. Headers with dye-sublimated graphic signs define each separate area and strategically house the slide projectors. White fabric-covered panels disguise a large storage area at the center of the booth and also serve as projection screens.