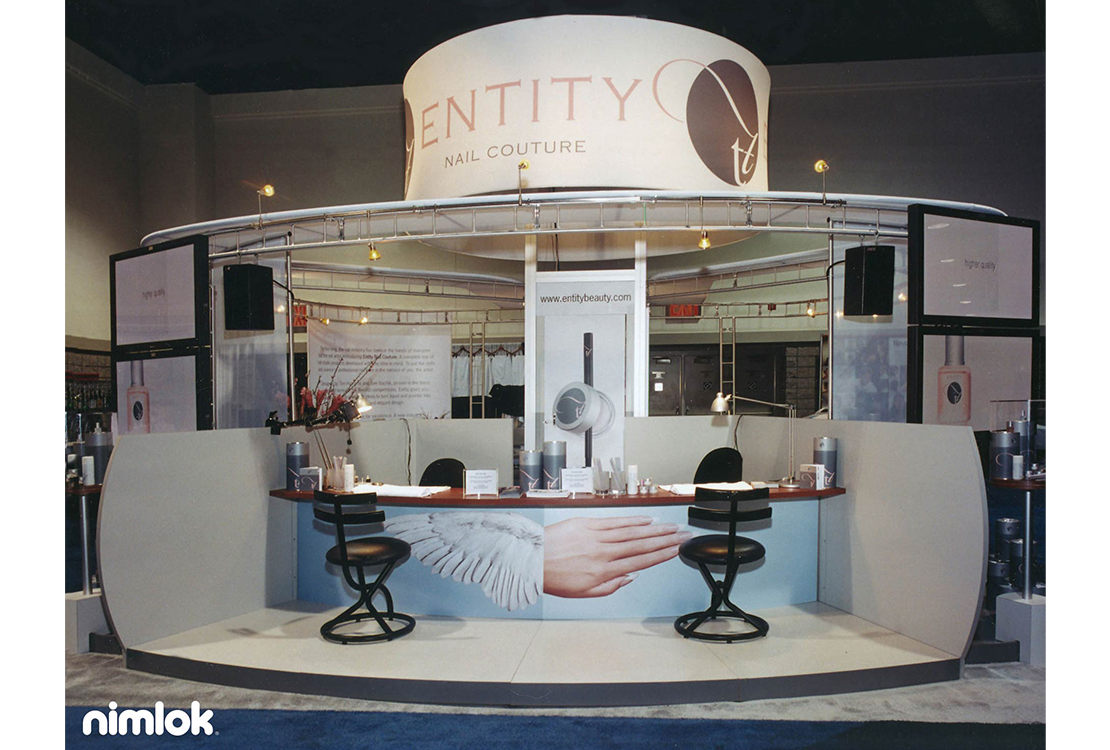 Client's Comments

"Nimlok did a fantastic job meeting our needs and specifications. The new space they were able to secure for us at the show worked out great, we received many compliments and the show was extremely successful."
Vicki Heller, Chief Operating Office, Entity Nail Couture
Design Challenge
Entity wanted to make a statement with their custom trade show exhibit. As a new business they felt they needed to introduce themselves to the market with a bang. They needed to have a demonstration area on a raised platform in the front of the booth and a storage room in the center. They also wanted a more private meeting room and a sales counter incorporated into the booth design. As the custom trade show exhibit was being completed it was discovered that it would be too tall for their exhibit space. Now the challenge became how to utilize this design at the show without making any modifications.
Design Solution
To solve the height restriction issue Nimlok turned to its overseas equivalent in the UK. They were able to secure Entity a new exhibit space with higher ceiling heights which allowed them to use the original booth design. All of the elements that Entity wanted to incorporate were created within the 20x20 space. A large fabric graphic was hung above the booth which helped to promote an elegant atmosphere. The demonstration area was bordered on each side by two large plasma screen TV's. They were mounted to low-profile aluminum extrusions which made them appear as if they were floating. The rest of the custom trade show exhibit was sectioned off with extrusion and fabric graphics to create the meeting area and reception desk, the use of sheer fabric kept the booth feeling spacious instead of closed in. By working with Nimlok's international network, Entity was able to introduce themselves to the European world with the effect they desired.