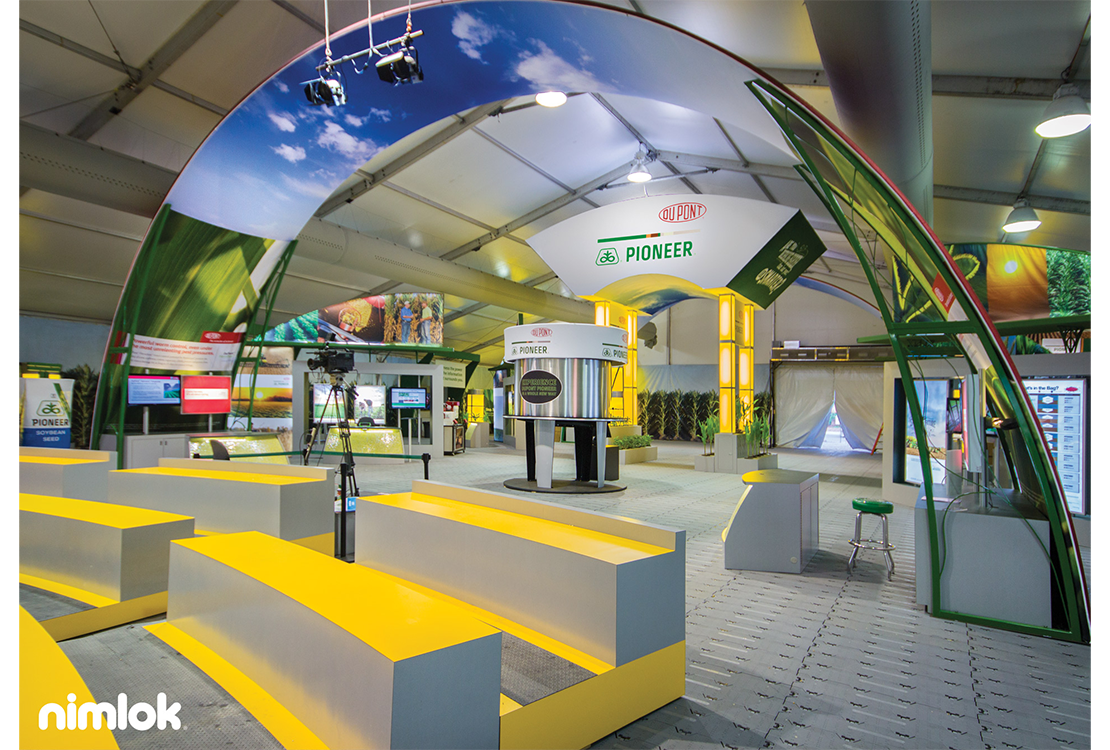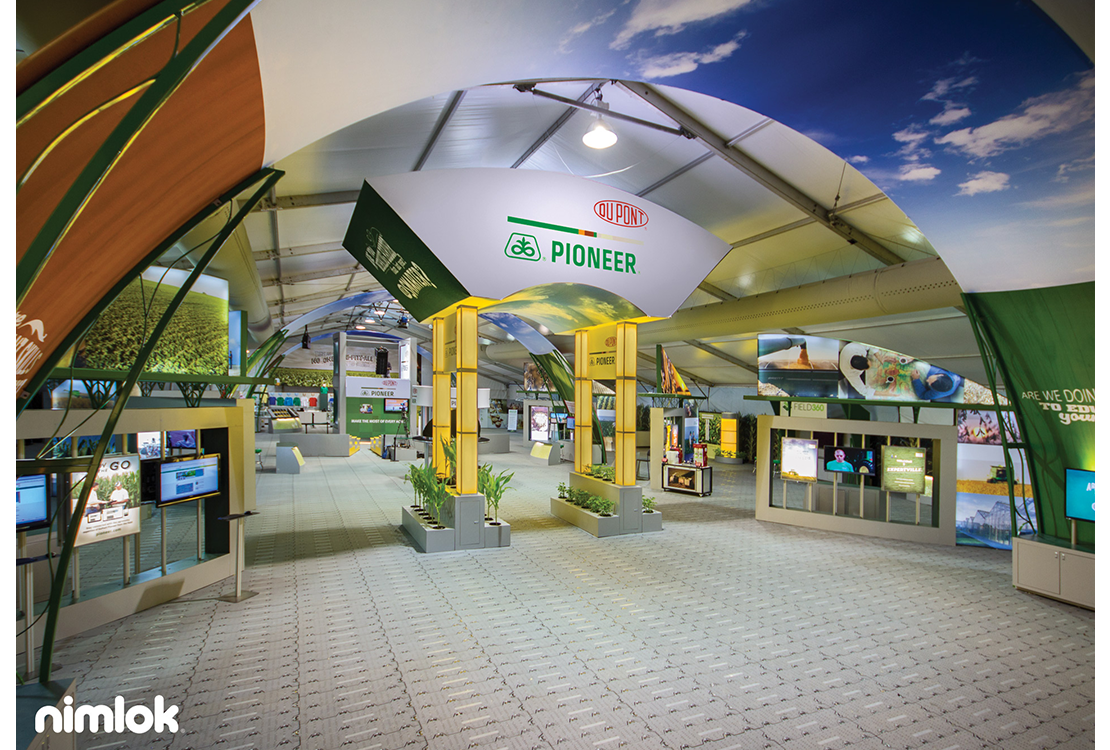 Client's Comments

"Coppinger Exhibits did a beautiful job in delivering us a total solution that will last in multiple shows over multiple years. They do excellent work!"
Marketing Manager
Design Challenge
DuPont Pioneer, the largest U.S. producer of hybrid and genetically modified seeds for agriculture, exhibits each year at the Farm Progress Show. Because Farm Progress rotates every year between Decatur, IL and Boone, IA, Pioneer aims to have a new, completely original custom exhibit every other year. They have worked closely with Coppinger Exhibits – an Indianapolis-based Nimlok distributor – since 2007, always looking to design an impressive, larger-scale exhibit for Farm Progress that could be reused and adapted for additional shows and for various booth sizes for the next two years. Many of DuPont Pioneer's largest clients visit Farm Progress to learn more about new technology, trends and products in the industry, looking to Pioneer as a thought-leader. To create an environment that was inviting and educational, Pioneer needed a stage with seating for presentations, several demonstration areas and many forms of highly integrated technology. The booth also needed to set up smoothly and safely for partially-outdoor shows, which often use open tents to house exhibitors. It was equally important to save on freight, drayage and installation and dismantle costs wherever possible, as parts of the exhibit would travel across the country year-round.
Design Solution
Coppinger Exhibits designed a 50x100 large-scale exhibit solution that provided DuPont Pioneer with everything they needed for Farm Progress, their largest show, as well as creative solutions for smaller shows. The large-scale exhibit was designed to work in combination outdoor/indoor tent space, taking wind, weather, tent gables, air ducts and more into consideration to create a safe and sturdy display. To save costs, larger design elements were constructed using lightweight tension fabric and collapsible aluminum structures that would save space and shipping costs. The exhibit was designed to fit Pioneer's varying marketing needs with integrated technology for presentations, projection screens, social media stations and even a hologram display. Custom-designed theater seating and stage provided Pioneer with a dedicated presentation space and a central control room made for easy technology integration for the presentations both inside and outside of DuPont Pioneer's tent. In addition to presentations, Pioneer uses their booth space to demo and sell products. Therefore, special stations, including their "country store," were designed to display and promote products and a chef's station was built to showcase Pioneer's cooking oil. With a variety of reconfigurable pieces and ample opportunities for customization, Pioneer could easily choose specific pieces to travel to additional smaller shows throughout the year and still tailor each space to meet their specific marketing goals. Coppinger Exhibits' design provided DuPont Pioneer with an exhibit that would sustain their face-to-face marketing efforts month over month, year over year.