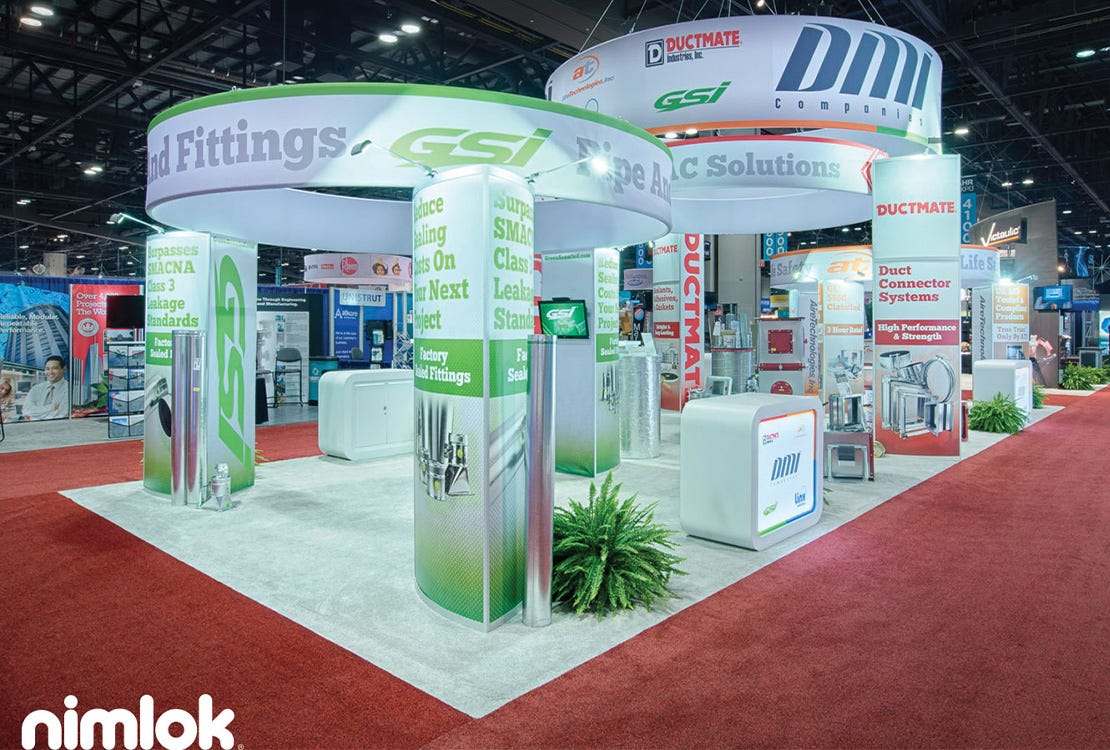 Client's Comments

"Nimlok of Pittsburgh went above and beyond with our new booth. They provided flexible deadlines, delivered a booth that stood out among hundreds of exhibits and even flew in to assist with our setup."
Stephen Nachreiner, Marketing Manager, DMI Companies
Design Challenge
DMI Companies is the largest heating, ventilation and air conditioning accessories manufacturer in North America. For the International Air-Conditioning, Heating, Refrigerating Exposition (AHR) 2016, DMI Companies needed an exhibit large enough to showcase three brands under the DMI Companies umbrella.

The exhibit's design needed to give equal exposure to each brand, have open, easy access from the aisles while conveying branded messaging in a modern way.
Design Solution
Nimlok Pittsburgh worked closely with DMI Companies to design and build an attention-grabbing 20' x 50' custom modular exhibit. To create a brand immersive environment, Nimlok Pittsburgh designed four circular fabric structures, one for each sub-brand featured in the space.

Fabric-based pillars placed at strategic points in the space were adorned with vivid graphics that helped communicate brand capabilities. The perimeter of the exhibit was left unobstructed to allow for seamless attendee traffic flow. Finally, four illuminated counters served as attendee engagement points where booth staff could greet visitors and invite them into the space.

Thanks to smart design and bold messaging, DMI Companies generated a considerable amount of interest in all sub-brands, and were featured in the AHR newsletter for having an outstanding exhibit.