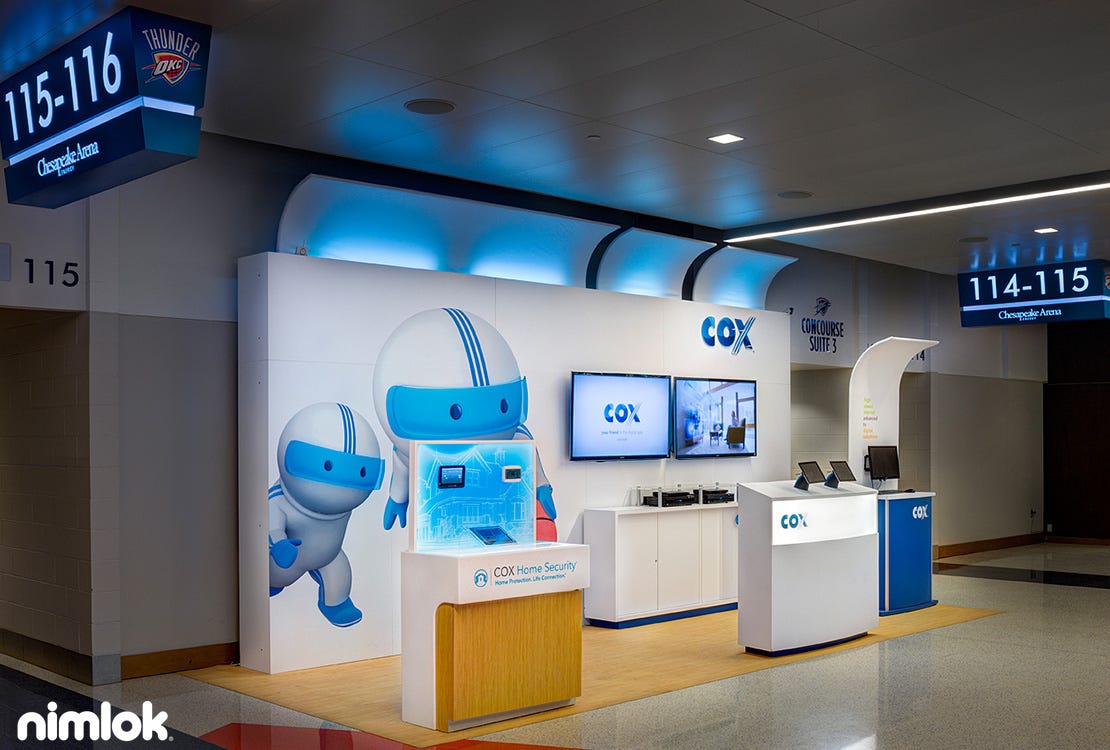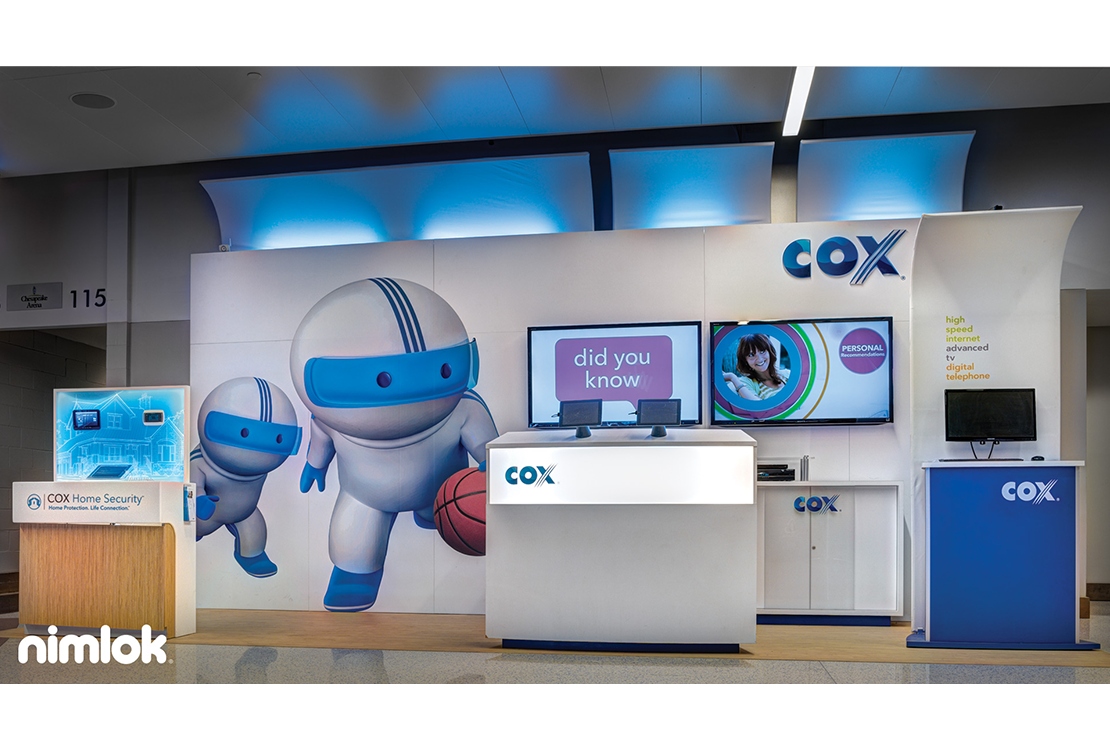 Client's Comments

"Crain Displays has a longstanding relationship with Cox Communications, Cox Business and Ghost Design, their ad agency. Cox uses us for all their Oklahoma booth setup and storage needs. As a Nimlok authorized dealer we brought Nimlok in for the finished design and production."
Scott Cole, Crain Displays
Design Challenge
Cox Communications, a major provider of digital cable television, telecommunications and wireless services, is a sponsor for a variety of event venues. As a featured sponsor for Oklahoma City Thunder basketball team, Cox setup and tore-down a portable display for home games and events held in the Chesapeake Arena. Having already invested in permanent exhibits in other sponsored locations, Cox wanted to make the same investment for their display at the Chesapeake Arena. They needed a high-impact, permanent exhibit that adhered to strict fire code and safety regulations. Their space in the Arena concourse was restricted to 6' x 22' footprint with a 6" height clearance. The exhibit, which would be staffed by the Cox team during events, needed to showcase digital products and services such as high-speed internet, digital cable television and home security solutions. Additionally, the project had to be installed as soon as possible, with just a small window between home games and stadium events for adjustments. Cox asked Nimlok Authorized Dealer, Crain Displays, to partner with Cox's ad agency to bring this exhibit to life. Crain Displays, Cox's longstanding partner for all Oklahoma City booth setups, began work immediately to build and deliver a solution to meet the specific needs of this project.
Design Solution
Throughout the process the Crain Displays team worked seamlessly with Cox's ad agency, the Chesapeake Arena and the fire inspector to design and construct the exhibit. They were even able to negotiate an extra three feet of depth for a total space of 9' x 22'. Their design incorporates two 55-inch monitors, a media kiosk, an iPad tablet counter and a custom counter featuring Cox Home Security technology. Multiple locking cabinets allows for plenty of storage space for materials in between events. The design features clean and modern fabric elements, backlit with a variety blue and white LED lighting that draws attention and complements the surrounding elements of the Arena Concourse. Crain Displays succeeded in providing Cox Communications with a permanent exhibit solution with all the 'wow factor' of a temporary exhibit and none of the hassle of setup and teardown.