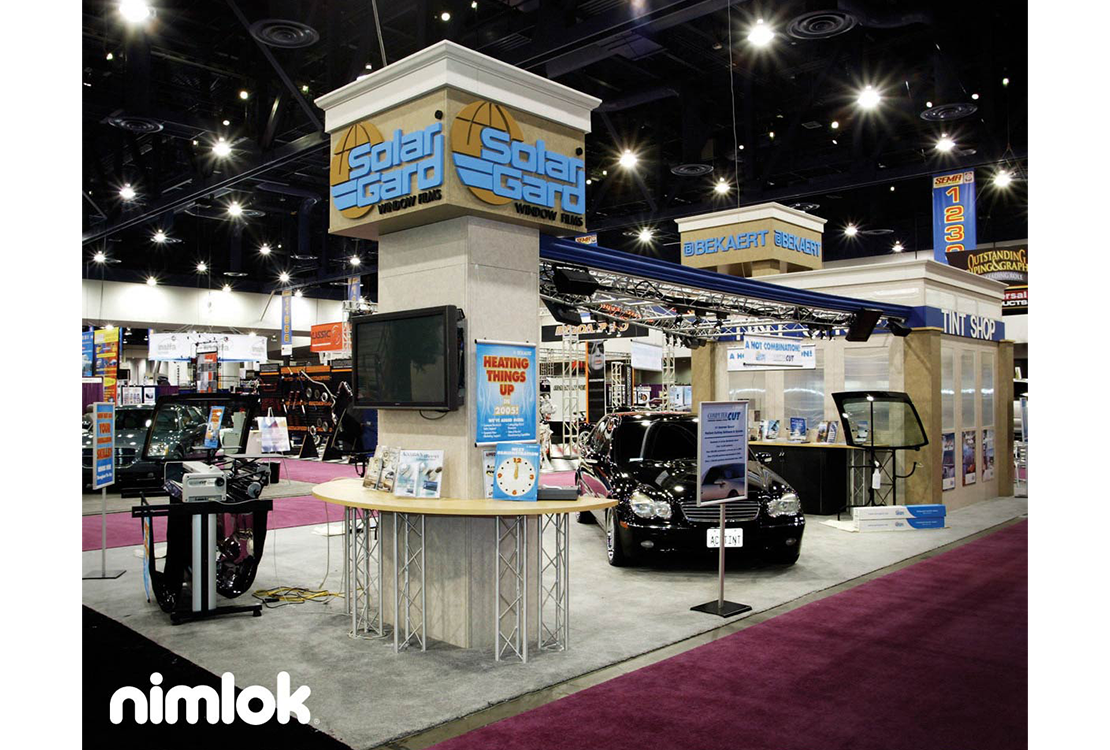 Client's Comments

"Investing in a Nimlok exhibit was a wise decision. The high-quality booth was contemporary, unique and attracted the attention of dealers and prospects. We were very pleased with the final result."
Erin Taylor, Marketing Communications Coordinator, Bekaert Specialty Films, LLC
Design Challenge
Bekaert wanted to utilize a very unique exhibit design at the SEMA show. They asked for a layout that included the look of an actual Tint Shop. They felt that this would achieve the non-traditional trade show look they were going for. Within this arrangement there needed to be room for a large private office, four demo stations, as well as a full size vehicle. The exhibit space was larger than previous years, but Bekaert wanted to try and keep the weight and overall cost down.
Design Solution
Nimlok was able to create the Tint Shop with the inside area reserved for private meetings. The Tint Shop structure was strategically placed on one side of the space and connected by aluminum truss to a tower on the other. This sectioned off most of the custom trade show exhibit for demo stations and the car, but also left space on the other side of the tint shop for tables and chairs. This could be used as a more informal area for the sales staff and prospects to talk. The other side of the booth had a large tower that also had a counter area for literature and a plasma screen tv for informational videos. The demo areas were placed on the outer area of the booth so there is easy access to traffic. Lights were hung on the truss of the custom trade show exhibit to highlight the full size car that was positioned in between the tint shop and the tower. The booth design aimed to draw the crowd into the demonstration areas by the big towers, tint shop structure and the car.