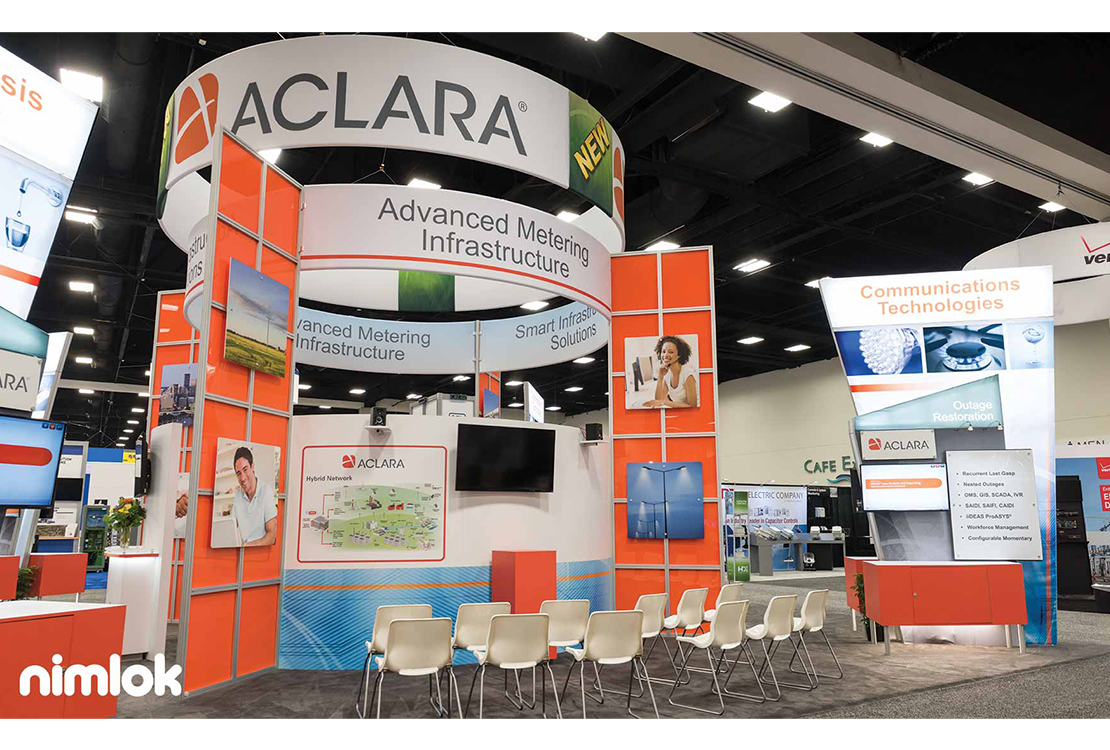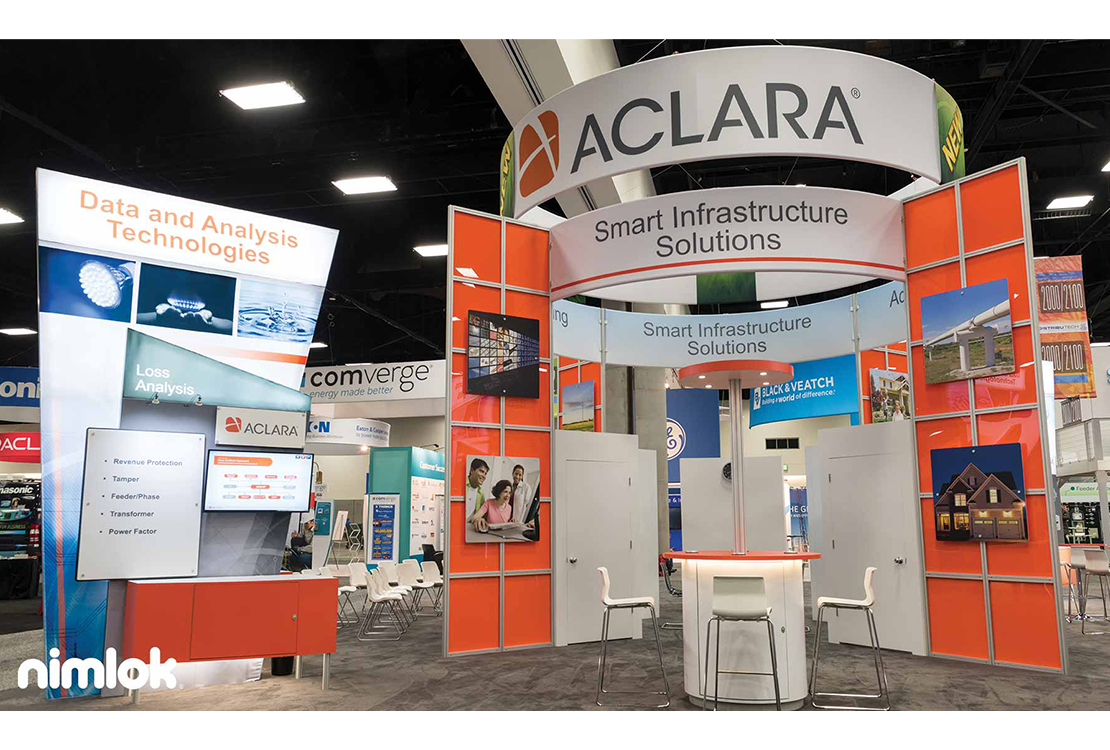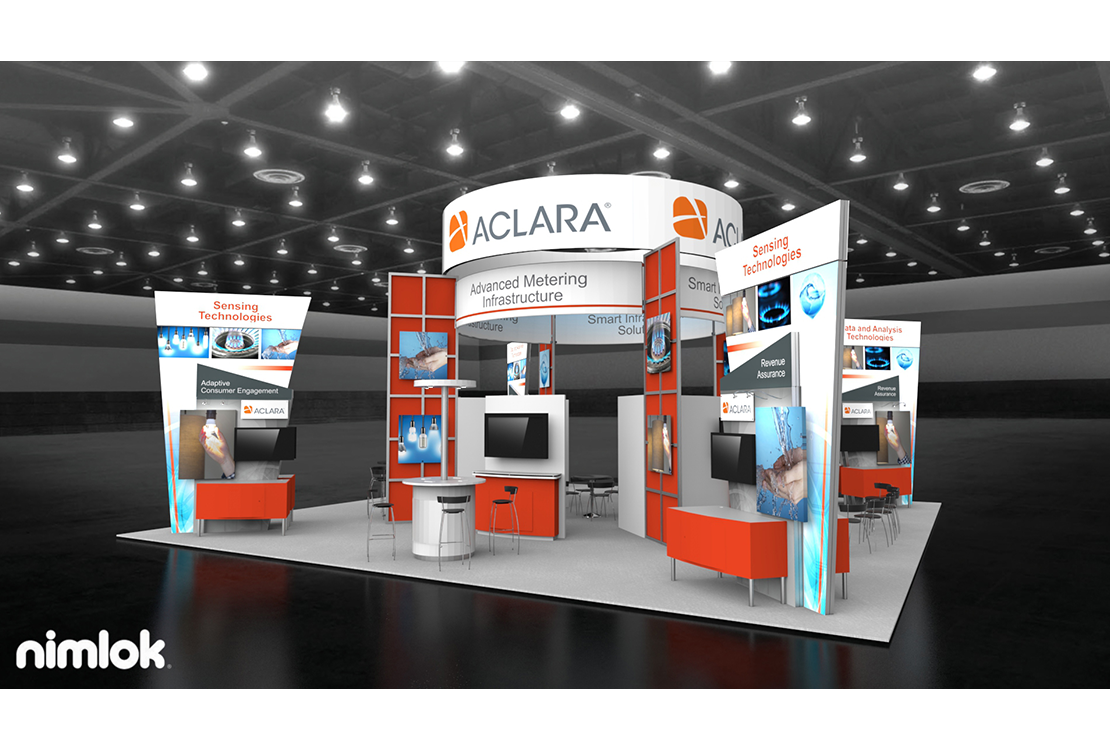 Client's Comments

"Aclara has a very busy exhibiting schedule and we needed an exhibit that featured more modern elements and one that was more flexible to meet our show and schedule needs. Nimlok St. Louis designed and worked with Nimlok to build a captivating and reconfigurable exhibit that met our changing requirements show-to-show, while still durable enough to handle our hectic traveling and storage needs."
Kim Kilcauski, Marketing Communications Manager at Aclara
Design Challenge
Aclara is a supplier of infrastructure solutions for gas, water and electric utilities worldwide. Aclara was in need of a new exhibit because their previous exhibit was timeworn and they wanted to transition into a more modern look. Because Aclara exhibits at shows multiple shows throughout the year, having a reconfigurable, bold, customizable, easy-to-ship exhibit that could transform to fit into a variety of booth sizes was crucial. Also, Aclara needed an exhibit that featured structures and graphics to educate visitors on their capabilities with space for presentations and one-on-one meeting areas.
Design Solution
Nimlok St. Louis designed a custom modular exhibit that possessed the ability to morph to fit into a multitude of exhibit spaces from 40' x 40' to 10' x 10'. Because Aclara offers a variety of different services to different industries, it was important for their display to concisely educate visitors with relevant branded messaging from show-to-show, which is why Nimlok St. Louis designed an exhibit composed of freestanding elements rather than one large structure.

The exhibit featured four illuminated angular workstation towers featuring fabric graphics, countertop cabinets and LCD monitors. The graphics on each workstation were interchangeable to allow Alcara the ability to rebrand their display with branded messaging and product areas relevant to an events audience. Also, a workstation could be added or removed to accommodate the exhibiting space.The large 40' x 40' configuration also included a theater presentation area complete with a monitor and a simple seating arrangement in addition to the product workstations. To increase attention, radiant illuminated lightbox pillars stood in the center of the exhibit, underneath a large branded circular hanging fabric sign, creating added brand authority and prominence. Aclara's exhibit was very accommodating and provided charging stations and seating throughout the space, which helped provide visitors with much needed amenities.

Lastly, a semi-private conference room supported Aclara's desire for intimate one-on-one meeting space. Nimlok and distributor Nimlok St. Louis crafted a completely one-of-a-kind exhibit containing many of the exhibit display solutions that

Nimlok has to offer, including custom cabinetry, fabric structures, modular construction and illuminated fabric graphics demonstrating that the diverse needs of exhibitors can be met with elegant design and sensible modern aesthetics.